Creating email campaign has been on of the most successful ways to grow your business. We take all the pain out of list management by handling the messy stuff like bounces and unsubscribes automatically. Whether you've got a small list, or need to get your hands dirty with segmenting and personalization, we've got you covered.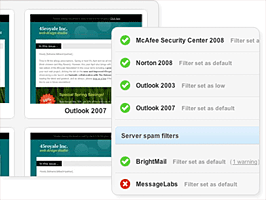 We will handle every new signup, unsubscribe, bounce and even spam complains – all without you seeing or worrying about any of it. You'll be sure to keep your mailing list (email campaign ) on the right side of the spam laws. Every email you send will include an unsubscribe link (required by spam laws) and a user preference center allows subscribers manage their own subscription. You'll never see the ugly side of managing an email list again.
Customize The Signup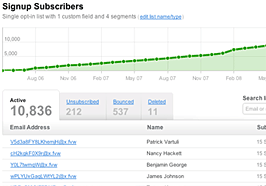 Have different groups you want to send to? You'll have the flexibility to create as many different lists as you need at no additional cost.
Even better, the entire signup and unsubscribe process can be customized to each list allowing you to set unique landing pages and welcome emails as users join.
Personalize every email you send
With custom data, you can easily capture anything and everything about your subscribers like age, address or gender. When you send emails, you can include any custom data you've collected in the email itself.
Want to get really specific when sending to your list? Build segments that allow you to send emails to certain people within your list. Want to send emails just to women living in Colorado? Not a problem! Want to send emails only to people that actually opened the last 3 emails? Simple!
Comprehensive List Management Features:
Signup Forms
Use our simple form builder to create signup forms you can easily add to your site.
Custom Fields
Store anything you like on subscribers and easily insert them into email content.
Segments
Send targeted campaigns to groups of subscribers based on your own criteria.
Export to Excel
Select the fields and export any list in your account straight to Excel.
Customize Everything
Change the look and feel of the entire signup and unsubscribe process.
Suppression lists
Never send to anyone who has unsubscribed, bounced or marked you as spam.
Confirmed Opt-in
Require subscribers to confirm their email address when signing up to your list.
RSS feed for list activity
Track new subscriber activity for any of your lists without needing to login.
Preference Centers
Let your recipients manage their own subscription preferences.
Flexible importing
No matter format your lists are in, we make it easy to import into your account.